Expert chimney repairers in Northampton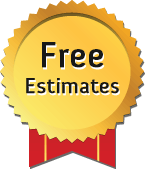 Regular chimney maintenance and prompt repair is very important. A chimney in need of repair or renovation can have serious implications for the rest of your property. Water leaks can spell disaster and, if left, can cause real problems, so they need repairing quickly or - even better - prevented from occurring in the first place.
As chimney repair specialists serving Northampton and the surrounding area, we're the professionals to call if you're concerned about possible chimney damage. Booking an inspection may be worthwhile as damage can be hard to spot high up on your roof.
We'll be happy to come and take a look at your chimney, advise on what work may be required, and provide a full and free estimate. Rest assured we'll provide clear and, above all, honest advice.
All types of chimney repair
Don't leave something as important as your chimney to chance. Call the experts in. We can undertake all manner of repairs whether it's related to the flashing, re-pointing or maybe fitting a new cowl.
Why choose us?
We employ highly experienced staff - people who are experts in chimney repairs
You'll receive a full and free quotationwithout obligation and with no hidden extras
We offer helpful, impartial and professional advice all as part of the service
Talk to the customer-focused chimney professionals
We enjoy an excellent reputation throughout the Northampton area for high quality work and high standards of customer service and satisfaction.
We'd be delighted to discuss your chimney repair and/or maintenance needs, so call 01604 922664.