Slate and tile roofing expertise in Northampton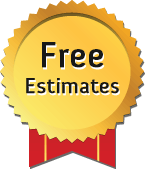 Maybe you need a couple of roof tiles replaced or perhaps you're thinking it's time for a whole new roof? Whatever your requirements, if you have a slate or tile roof then talk to the experts in Northampton. We've built a solid local reputation in the area over many years for providing top class slate and tile roof repair services.
Whether it be natural slate or concrete tile roofing, it demands the highest standards in terms of experience and quality of workmanship and we'd be delighted to put our know-how at your disposal.
We're known for providing top quality work at fair rates. We'd be pleased to discuss your needs, advise you and provide a full and free estimate.
Why should we work on your slate or tile roof?
We realise the choice of professional to work on your roof is one you want to take care over. Above all, you'll be looking for someone you can trust and have confidence in. The following may show you why we're the people to talk to:
We'll advise you honestly on the repair work required.
We'll work efficiently to minimise your inconvenience and disruption.
We always use the highest quality materials for a long-lasting result.
Putting the customer first
Along with the above, we demonstrate a genuine commitment to your satisfaction and confidence by providing a satisfaction guarantee on all work.
We fully realise your slate or tile roof needs to last. Let's see how we can help: call now on 01604 922664.