Guttering professionals in Northampton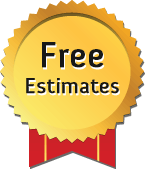 Your gutters take a lot of punishment over time, so it's inevitable that sooner or later they will need maintenance, repairs and ultimately replacement. It's also possible you've had enough of guttering that may need lots of attention such as re-painting and are interested in fitting a modern, low-maintenance type.
There are serious implications if your guttering stops efficiently draining rain water safely clear of your property. Soon water could get into roof spaces, foundations and/or soak into the brick work. Left unchecked, water damage could result in very expensive repairs.
For many years, we've provided guttering services in and around Northampton and have built a solid reputation for providing high calibre work allied to excellent customer service.
Why we're a sound choice for guttering
We'd be happy to come and visit and advise on what work may be required on your gutters. A full and free quote with no hidden extras will be provided, and the work will be completed efficiently and swiftly.
We're highly experienced in guttering applications for most types of property
With us you'll get clear, straight-forward and honest advice provided, every time
All quoatations come free, without hidden extras and without obligation to buy
We prioritise good customer service
Along with being honest and open in the advice and prices we provide, we commit to high standards of customer service by providing a satisfaction guarantee on all work. We want you to be reassured you're choosing the right people to work on your guttering.
Talk to the guttering experts serving the Northampton area by calling now on 01604 922664.