Top quality and high value roof repairs in Northampton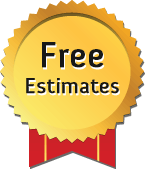 Even a tiny problem with your roof can soon cause bigger problems. A small weakness such as a loose or broken tile or small tear in a felt roof can give rise to water ingress problems with disastrous consequences. It's therefore important to get your roof repairs attended to by an expert as soon as possible.
That's where we come in. We can help as we've provided roof repairs to customers in Northampton for many years now and have built a fine reputation for high standards of work, affordability and equally high standards of customer service.
When we repair your roof, you can be confident you're in the hands of professionals who will do a job that will nip potential problems in the bud with repairs that will last a long time to come.
We're your expert roof repairers
Why call us?
We can undertake repairs on all types of roof including felt, fibreglass, tile or slate
Highly experienced tradesmen expert in all manner of roof repairs
You receive a full and free quotation which comes with no hidden extras
Your confidence is our concern
We know you'll be keen to make the right choice of roof repairer. After all, a poorly maintained roof can have serious ramifications for your whole property. To help reassure you we're the experts to call in, we provide a full satisfaction guarantee on all work.
The fact we're prepared to back our service shows we're confident you'll be delighted. Wherever you are in the Northampton area, why not see for yourself how we can help? Call now on 01604 922664.