Flat roofing expertise in Northampton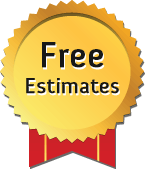 For all your flat roofing requirements, we're the professionals to talk to in and around Northampton. Whether you need a simple repair or a whole new flat roof installed, we've got the experience to help. You can talk to us with complete confidence as we've built a fine reputation in the area over many years.
We're highly experienced in all types of flat roof repair and installation, so whatever your requirement it's likely we'll be able to offer you the expertise to get the job done to a high standard.
Rest assured we'll provide honest advice, too. For example, if a repair will suffice we'll say so rather than trying to talk you into an unnecessary full roof replacement.
Your best flat roofing choice
We're here to help you choose confidently from the various flat roof repair and replacement options. A few reasons to call the number on this page:
We put the customer first: we're happy to advise without pressurising you.
We'll provide a full and fair estimate for the work with no hidden extras.
We always us the best quality materials for all flat roof work.
Your satisfaction matters
We want you to be totally confident you've chosen the right flat roof professionals in Northampton. To this end, along with being honest and transparent in all dealings with you, we provide a satisfaction guarantee on all the work we do.
It's all part of our genuine commitment to high class customer service. To see how we can help you, call the flat roofing professionals now to discuss your needs on 01604 922664.